Surrey Narrow Gauge Modellers
Mystery at Scrubbs Lane Yard
I was enjoying a wee dram with Alisdair MacAndrew the other day when he related a strange tale. Alisdair had been enjoying a short holiday from his job as roving cameraman for the Craigshire Daily Advertiser & Gazette and had chosen a walking holiday around Nerdling in Sussex. "As far away as I could get without going properly abroad," he explained it.
Whilst on his daily walk, he crested one of the South Downs - "molehills" - when he saw a flume of steam coming from Scrubbs Lane Yard. He had stumbled on the agricultural extrusion works of Ebenezer Figgis, home of the world famous forced rhubarb. The mystery is that Ebenezer is notorious for his diesels-only policy, so why the steam?
I suggested to Alisdair that, following a healthy pub lunch he might be... er, mistaken. He reminded me, rather tersely I thought, that he never moves without his photographic equipment and so had been able to secure pictures of no less than three locos - and here they are.
---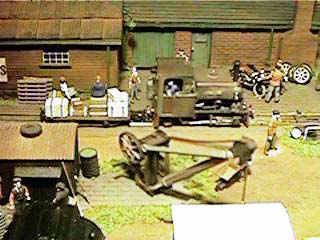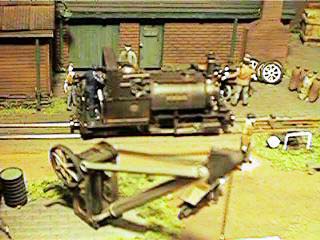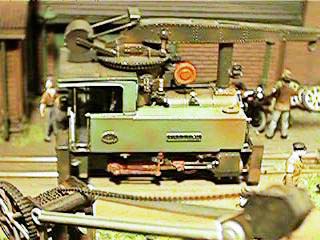 ---
Having soothed Alisdair's feathers with a further wee dram or two, I asked if he knew the reason for the steam. A lucrative photographic charter? Surely Ebenezer has not gone all philanthropic and helped out the local preservationists? Even less likely, has Ebenezer snapped up a canny bargain? Alisdair could not say. An irate Mr Figgis had stormed up to the hilltop vantage point, cursing and muttering about trespass and photographic royalties. Alisdair had been forced to make a strategic withdrawl.
But the (illicit) photos remain as evidence and we shall report more as and when the mystery is unravelled.
From a group member
With acknowledgements to P.D.H.

© 2000 SNGMs