Surrey Narrow Gauge Modellers
Open Day 2001
Narrow But Nice:
A Report

The fair county of Surrey has more than its fair share of narrow gauge modellers, with two flourishing area groups from both our Society and the 7mm Narrow Gauge Association. They both came together on Saturday 2nd June to host 'Narrow but Nice' in Leatherhead.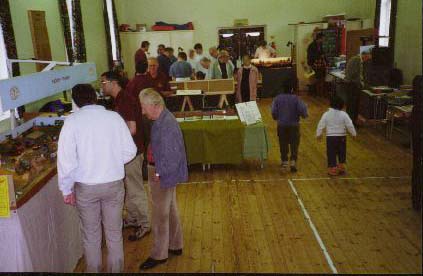 This Members' day is the third to be organised by John Thorne and his group and featured a number of interesting layouts. Philip Moss's "Knoware Tramway" unusually featured 7mm scale on 12mm gauge track, representing a 15 inch gauge prototype. There was some nice scenic work as well. Brian Cameron had two layouts on display - "Bodger's End" was an interesting terminus layout featuring O-16.5 in a space of only 4 foot by 1 foot. Perfect for an experiment in the larger scale! His "Bodgit and Much Pottering Light Railway" was a larger example, and a commendable first effort in railway modelling. A couple of test tracks were also on display in 7mm scale, including the "Steyning Slim Line" from David Broome and a circular run from Steve Cobb.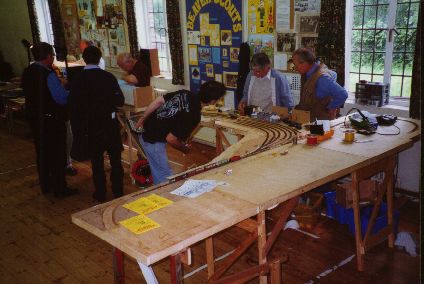 The OO9 layouts were all provided by members of the Surrey Narrow Gauge Modellers. John Thorne displayed his "Ditton Railway Company" which will be familiar to readers. This well detailed set of modules is soon to be joined by "Ditton Town", the final scene featuring the headquarters of the line and a model of Britain's last remaining temperance bar - not something usually associated with railway modellers!! Baseboards and trackwork were in evidence. At the other end of the room, John's "Scrubb's Lane Yard" shunting layout was in operation. Eve Everett showed "Sendup Down", a rabbit warren layout featuring some cleverly worked out gradients and levels. It takes its inspiration from "Dinas Dyke", an exhibition layout which may be familiar. Robert Bough had the beginnings of his model of Porthmadog Harbour station on show. This layout will apparently feature a working tide, but it was definitely out on the day. This is an ambitious project, but where was the Cob? No wonder the tide was out!
Trade support was supplied by Brian and the Members' Sales stand. As ever, these Members' Days are an opportunity to meet and chat - "come and natter Narrow Gauge" as the posters say! I'm sure a good time was had by all, I know that I enjoyed myself!
David Gander
© 2001 SNGMs