Surrey Narrow Gauge Modellers
Narrow But Nice 2004
June 4th 2004 saw our fourth open day and our second held jointly with the Surrey area group of the 7mm Narrow Gauge Association. The event we put on in 2001, was highly successful so we decided to retain the same venue and format. Why then wait three years? The answer is that although Narrow But Nice is one of the smaller events on the calendar, we do want to bring together layouts from our own area that are mostly new(ish) or rarely seen. This is not practical to achieve without an intervening period and we would rather wait until we could assemble such a field. This time we were delighted to display twelve such layouts in three different scales and also the 009 Society sales stand.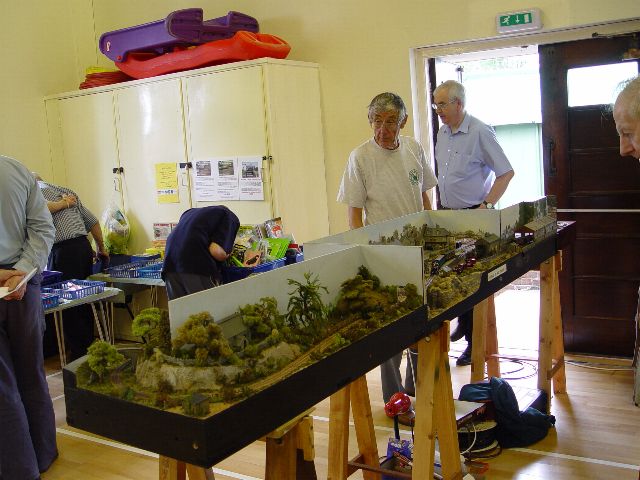 Attendance was a little disappointing. For a number of reasons, not all under our control, the event was not widely enough publicised. I do not think the clash with Derby Day affected things much, but am fairly certain that the overturning of a huge articulated lorry carrying rubbish had something to do with it. This beast came to grief just off the roundabout between the M25 and Leatherhead at about 9:00 a.m. and was still there, on its side, at 7:30 p.m. As traffic warnings were being given out all day on the radio, I am sure the thought of motorway queues would have deterred some visitors from travelling.
Most importantly, we managed to achieve that magical friendly atmosphere that we hoped for. I am not sure what all the ingredients are but it is most important to a smaller event that the "feel" is right. With a steady stream of visitors, some new, many old friends, wonderful light refreshments including homemade cakes and our variety of layouts on display, a good time was had by all.
A particular pleasure for me was to see Philip Moss's layout Picardy 1917. This layout is a semi-permanent fixture at Philip's home and considerable effort was required to bring along the portion that was displayed. Made to be removable if necessary, as opposed to portable, I understand that fiddle yards also had to be specially made for the occasion. Well done Philip - the effort was appreciated and well worth while.
Of course our thanks go to all the exhibitors and group members (large and small) who helped out on the day and assisted in the organisation.
Our good friend David Gander has once again written us a report, which has appeared in the 009 News, but is reproduced here, together with a selection of photos taken by SNGMs members and another good friend, Mick Thornton.
(c) 2004 SNGMs